Create your business card
On the ATLAS you have a possibility to describe your business. By choosing text that is aligned with your values and offers you can create the feeling you want to send to your next customer. Your business will be described and promoted in a "card", a page just for you!
On this page, you find short instructions on how to finalize your sign-up properly before being published online – a small guide of things to think about.
---
Textfields
To help potential customers find and learn more about your business, you need to provide them with information like your address, contact info, social media links, and photos. That people find you online, and making it easy for them to discover your business is crucial to your success. Spare some time to make sure that you are visible, transparent, genuine, and easy to understand.
1 The name of your business
Account name: Here is where you enter the name of your business.
The name will be visual when the visitors are looking for places and companies. And it will be at the top of your "card"

---
2 Contact information
Add information so the customers easily can contact you and learn more about you and your business.
For communication between you and the wellbeing team.
Will not be visual on the card.
For communication between you and the wellbeing team. Will not be visual on the card.
For communication with your customer.
Will be visual on your card.
TIPS
Email is an important information channel with your customer.
The quality of your customer service emails affects your customers' perception of your brand.

be human and personal when writing
use wellbeing wordings

Be clear and easy to understand.
For communication with your customer.
Will be visual on your card.
For communication between you and the wellbeing team.
Will not be visual on your card.
Add all your available and active accounts
TIPS
all your social media account should be aligned with your values and marketing strategy.
Adress to your destination
This will help guide your guests to your facility.
Will be visual on your card.
Will be visual as a marker on the map

---
3 Describe your business
Your texts are a big part of "the voice" of your business and make memorable images of your brand for the reader.
The readers, however, are elusive, you only have a few seconds to capture their interest. So don't waste precious time on information that does not say anything. Capturing the reader's attention with a text that hits them right in the heart increases their confidence in your business. The style and shape you start with should continue in the same way throughout your presentation, from start to finish. But it should also be aligned with what is written on your own website or on your social media. The text should be easy to read, logical, clear, and complete. Proofread the text many times, get help from friends and acquaintances, partners and customers – it's easy to become home blind. Mainly maintain your "About us" text so that you have up-to-date information about you and your company. It makes you more interesting.
On the ATLAS you have four small blocks available for your promotion – use them wisely. Get support from our booklets and films to create a wonderful wellbeing text, supported by calm, inspiring photos.
A small description. (80 characters max)
The very essence
This text is visual when the visitor hoover over your picture.
This is your possibility to first impression
Present the very essence of what you offer and what makes you, your business, and your product or service special, fantastic, or in any other way wellbeing.

A short introduction (600 characters max)
A summary
This text is visual in bold on top of your business card.
Some visitors might will only read tis text and not the rest.
Speak directly to your guest use "you".
Besides the name of your business this text is the first, and perhaps only, text your potential guest and customer will read about you when they visit your business card.
So give this some good thoughts, is there something you need to say, something extra special or unique – it can be that place, it can be the offer, it can be your knowledge or education, It can be your hosting values or something completely different.
Here are some examples of what you can describe:
What do you offer? nutritious food, treatments, accommodation, experiences,
Are you sharing: traditions, culture, knowledge, experiences, adventures
Is it your place– mesmerizing views, the waves of the sea, the puls of the city, healing power of nature
Is your facility unique – romantic, tropical, rural, genuine, historical, classic, modern,
Type of offers – luxurious or affordable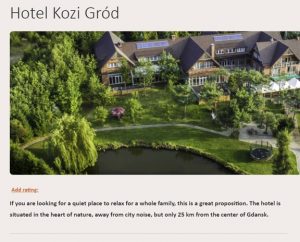 Describe your offers (1000 characters max)
Here is your possibility to shine.
Describe what you will offer your guests, how you will take care of them. Describe where your products come from or how you perform a particular treatment. Create images for the reader and make them longing for you.
Describe your business (400 characters max)
Who are you?
Describe your business values, your hosting values.. perhaps talk about the history of your business. Let the visitor get to know you, for real. Be inviting and open. Strive for a genuine connection, let your guests know that they are in your thoughts, year-round.