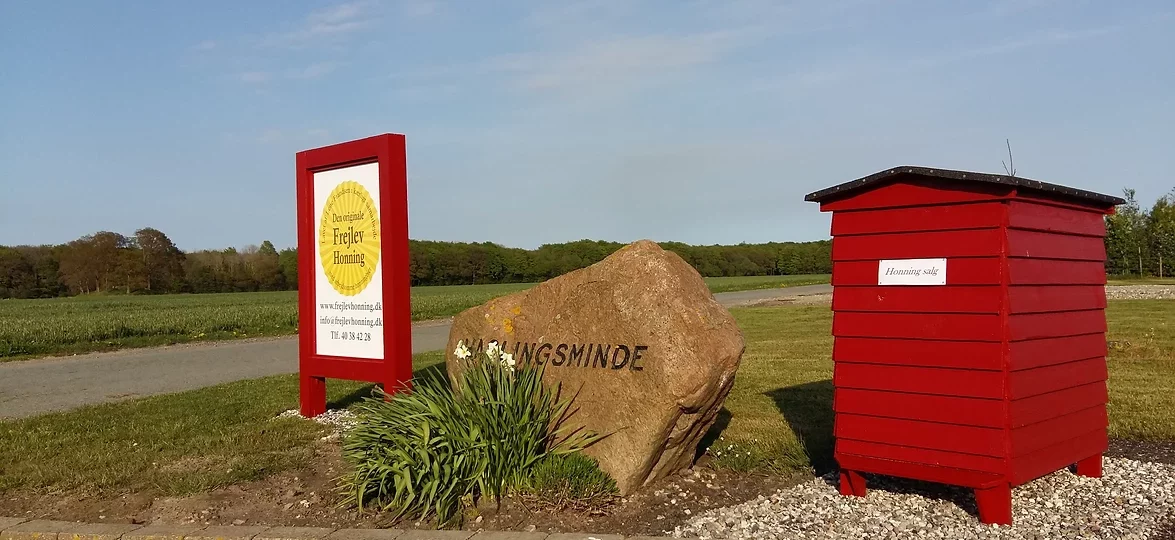 We hope you enjoyed your visit and we love to have your feedback. How well do the Frejlev Honning deliver wellbeing to visitors?
Cancel
Frejlev Honning yra mūsų ūkyje, Lolland saloje, netoli Baltijos jūros. Čia mes gaminame medų, su meile bendradarbiaudami su bitėmis. Aviliai dedami gėlių laukuose, kaimo miškuose ir pelkėse. Medus yra grynai natūralus ir autentiškas. Gamybos metu nieko nededama ir nekaitinama, taip išsaugant natūralias antibakterines, gydomąsias savybes.
Patobulinome savo produkciją, kad sukurtume ypatingai glotnų ir kreminį medų. Parduodame iš savo ūkio, vietinėse parduotuvėse ir kitose vietose. Medus parduodamas stiklinėje taroje, kurią galima perdirbti.
Kasmet 10-12 hektarų pasėjame bitėms draugiškomis gėlėmis ir kitais bitėms draugiškais augalais. Tai didina biologinę įvairovę. Jis pritraukia daugiau vabzdžių, pavyzdžiui, drugelių.
Lolando saloje auginama daug kokybiškų vaisių, pavyzdžiui, obuolių ir vyšnių. Vaisių augintojai gali pasamdyti mūsų bites, kad padėtų apdulkinti.
Mums svarbu kalbėtis su savo klientais ir pasakoti jiems apie bičių svarbą. Taip pat kviečiame mokyklų klases atvykti ir pažinti biologinę įvairovę. Tikimės padėti išsaugoti vietovės bites, plečiant daug daugiau avilių ir taip paremti vaismedžių ir krūmų apdulkinimo poreikį.
Kontaktinė informacija
(+45) 40384228
Enghavevej 40, 4892 Kettinge, Denmark
Atsidarymo sezonas: Ištisus metus

Kur mus rasti: