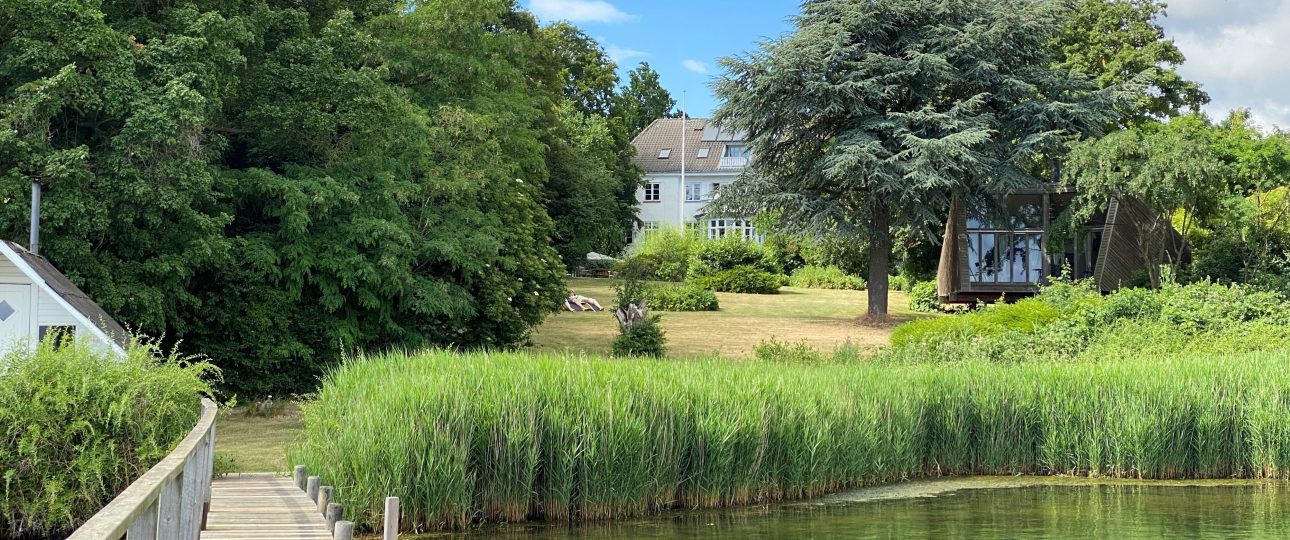 We hope you enjoyed your visit and we love to have your feedback. How well do the Villa Fjordhøj deliver wellbeing to visitors?
Cancel
Villa Fjordhøj är en hälso- och konferenslokal med 23 rum i staden Skælskør i Danmark, ca en timme Köpenhamn. Här erbjuds du en härlig vistelse med boende, hälsosamma måltider och olika friskvårdserbjudanden. Vi anordnar kurser och retreater, både för dig som enskild resenär och för grupper. Den eleganta huvudbyggnaden från 1916 är vackert omgiven av en parkliknande trädgård som vetter mot fjorden. Här finns ett brett utbud av inomhus- och utomhusfaciliteter med upplevelser som gör gott sinne, kropp och själ. Här kan du som gäst finna lugn och harmoni.
Villa Fjordhøj ligger på en lugn plats vid fjorden, omgiven av frodiga åkrar med utsikt över vattnet och den pittoreska staden Skælskør.
För dig som spa- eller kursbesökare har vi ett brett utbud av faciliteter. Vi har bland annat vildmarksbad, ett åttkantigt yoga-rum, meditationsrum med gonggonger och en finsk bastu vid vattenbrynet. Vi erbjuder mer än 40 olika wellbeing-erbjudanden med allt från massage, detox och zonterapi till klärvoajansövningar, soundhealing och trumspel.
På Villa Fjordhøj har vi väl tagit hand om- och förvaltat platsens själ och anläggningens kulturhistoria. Villan, som en gång i tiden varit privatbostad och vilohem, har fått behålla sina gamla, opolerade möbler och vackra originalfönster. Här får rosorna blomma tillsammans med ogräset - det bidrar till den informella och avslappnade atmosfären. Vi vill att alla ska känna sig hemma. Villan omges bland annat av flera terrasser, en parkliknande trädgård med solstolar och en mysig eldstad.
Vår vision är att vara "orkanens öga". En plats där du kan landa, återanknyta till dig själv och finna frid, vila, glädje och harmoni medan världen susar förbi där ute. Du som gäst ska kunna känna att denna plats drivs av kärleken till människor och naturen.
Kontaktinformation
(+45) 58 19 14 51
Rådmandsvej 23B, Skælskør, Denmark
Säsong: Året om


Här är vi nu: