The spa park of Bad Sülze invites all guests to linger and relax. Take a walk along the trees or visit the nearby salt meadows.
The park in Bad Sülze invites you to linger. The 13 hectare big Park with mature trees, ornamental trees, extensive Rhododendron groves and flower borders enchants with its natural strength. Lay down on one of the park benches and loungers and take in the special atmosphere of nature. While the thoughts are roaming, nature comes to life: songbirds, insects and maybe even cranes will fly by.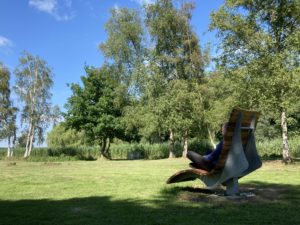 In autumn, thousands of dahlia blossoms in countless colors welcome the guests.
Lovingly designed sculptures await you at the annual dahlia festival. The nearby salt museum provides lots of information about the history of the salt production. The outdoor graduation tower in the museum's garden is a special highlight. Enjoy a cup of coffee and a piece of homemade cake while you listen to the brine dripping down the blackthorne.