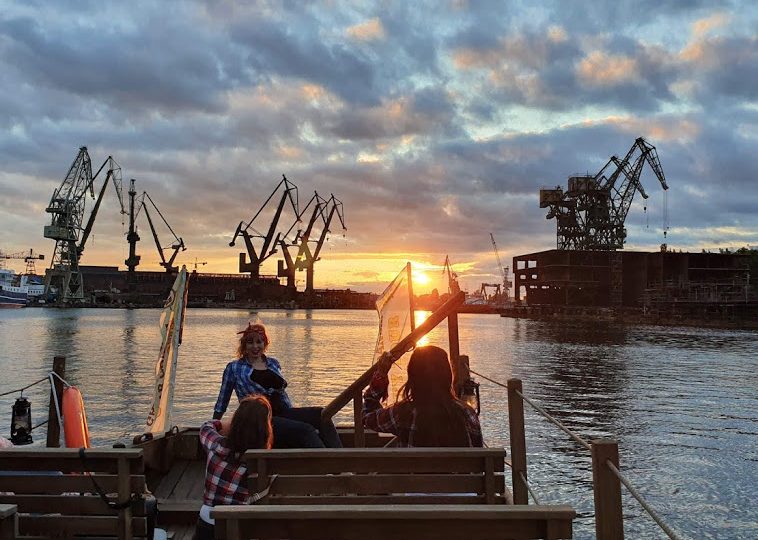 We hope you enjoyed your visit and we love to have your feedback. How well do the Galar Gdański deliver wellbeing to visitors?
Cancel
Oferujemy rejsy turystyczne replikami łodzi galarowych. Łodzie te były popularne w XVIII wieku i są częścią dziedzictwa kulturowego Pomorza. Płynąc nimi Zwiedzający mogą odkryć zupełnie inną perspektywę Gdańska.
Nasi przewodnicy to nie tylko przewodnicy - to gawędziarze. Dopasowują się do każdej grupy turystów. Podróżowanie galarami to prawdziwa przygoda, a każdy rejs jest wyjątkowy.
Do wyboru jest wiele tras. Przewodnicy dostarczają zwiedzającym wrażeń, których nie znajdą na zwykłych wycieczkach z wirtualnymi przewodnikami.
Oprócz regularnych rejsów po Gdańsku oferujemy wycieczki nocne po stoczni. Odwiedzający mogą podziwiać zachód słońca i po prostu odpocząć.
Co ważne, Fundacja Galar Gdański promuje zrównoważoną turystykę oraz aktywnie współpracuje z innymi organizacjami pozarządowymi np. wspiera wychowanków pieczy zastępczej przygotowując ich do zawodu.
Galar Gdański to firma, która dba o… gości, środowisko, społeczeństwo.
Informacje kontaktowe
+48500 609 999
aleja Grunwaldzka 5, 80-236 Gdańsk, Gdańsk, Polska
Otwarcie w sezonie: Cały rok

Gdzie jesteśmy: